A consulting group specialized in human resources, Heimdall is a strategic partner for successful IT companies seeking to capitalize on opportunities for growth.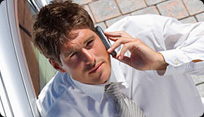 Heimdall aims to assist Human Resource departments in the recruitment of highly skilled professionals needed at critical stages in the evolution of the enterprise: at start-up, during the launch of new offerings or during restructuring.
Heimdall's consultants adopt a direct approach to recruitment, enabling HR professionals, hiring managers and candidates to establish contact in the most efficient manner possible. Through our expertise, we're able to create a recruiting experience that is "custom fit" for each of our valued partners.
Applications/BI/Collaborative

CEO, Country or Region Manager
Software Vendors
Integration
Sales and Marketing Management

Telecom Operators

Developement
Global and Key Account Management
SSII / VAR
Network/Telecom/Storage
Pre-Sales Director / Pre-sales Consultant
Cabinet de conseil

IT Governance and Compliance

CIO, Network/Telecom
End user